Mid Lincs Home Page
Any team where there is a likelihood of the venue being waterlogged etc should consider swopping the venue either to a more suitable pitch or reversing the venue with the opposition.Please keep the opposition,the League and referees where appointed informed.
Will the FA Commission's 3G revolution work?
FA Commission report outlines plans for huge 3G expansion to improve grassroots football facilities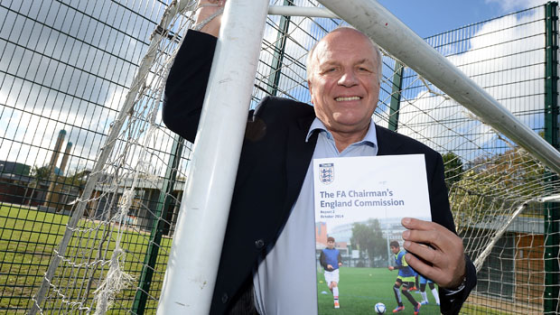 Grassroots football in England received a shot in the arm this month when the FA launched plans for a revolution in grassroots facilities and coaching, including the creation of hundreds of new 3G pitches and 150 new football 'hubs' in 30 cities by 2020.
As his England Commission published its second report, FA Chairman Greg Dyke spoke of a "radical new approach" that will see a 50 percent increase in 3G pitches nationwide and a 130 percent increase in urban areas at a cost of £230m over the next six years.
The news will be seen as long overdue for many in the grassroots game, who for years have struggled with poorly maintained and under-funded public facilities (83 percent of all grass pitches in England are publicly-owned). Club Website reported on the parlous state of grassroots facilities back in 2010 and cuts to local authority funding as a result of government austerity measures since then have made the situation even worse.
As costs continue to rise,
TRANSFER FROM 1ST NOVEMBER    -            (I) Subject to The Football Association Rules dealing with players without a written contract when a player desires a transfer, the Secretary of the club the player wishes to transfer to  shall DOWNLOAD the Transfer Pack available from midlincs.com Downloads Page and then submit the fully completed transfer request forms to the Registrar with the £20 transfer Fee along with 2 current passport photographs of the player and 2 fully completed Identity Cards.
Should the club holding the players registration object to the transfer it should state its objections in writing to the registrar and to the player concerned within 7 days of receipt of the transfer form. Upon receipt of the clubs consent, or upon its failure to give written objection within 7 days, the Registrar
Important Rules 
Would All Clubs pay attention to the 8 League Game Rule. All Teams MUST have played at least 8 games before 1st January. Any teams who have not will be fined for failing to deal with League business as per League Rules.
With there being 17 Sundays + Mid Week games available prior to Jan 1st, there is no excuse for any team not to get in 8 games. It doesn't matter if there are just 8 or 9 teams in your League the Rule is there for all teams not just your team or League. Before the Fixture meeting every team new that this rule was mandatory. If a team. postpones a game, bring another game forward.
No Transfers before 1st November and After 1st February in the playing season.